Bridges are semi-permanent devices used as replacement for one or more missing teeth.
Dental Bridges are cemented on your dental implants or existing teeth. They are removable but you will have to set an appointment with your dentist first for the procedure. Missing teeth need to be replaced as surrounding teeth may move into their place. 
When this happens, bite problems or TMJ disorders can occur.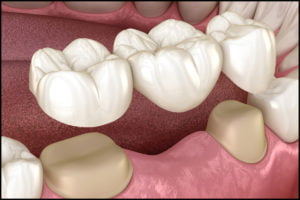 Getting a bridge may take two or more appointments with your dentist. The surrounding teeth will have to be reduced first so the bridge can fit over them. These teeth, called abutments, will serve as the anchor for the replacement tooth. A portion of their enamel will have to be removed for the procedure.
The next step is to take impressions. Once the mold for your bridge is ready, it will be sent to the dental laboratory. You can choose from the various available materials for your bridge. Your dentist can also help you decide depending on the location of the missing teeth.
Your dentist also provides you with a temporary dental bridge that you will need to wear while waiting for your permanent one. The temporary bridge serves as protection for the abutment teeth. Once the permanent dental bridge is ready, your dentist will place, adjust, and cement it on the adjacent teeth to ensure proper fit.
Note that bridges may loosen or fall out over time. To ensure they last you long, good oral hygiene is a must. Regular visits to your dentist are as well necessary. If you're interested in getting a dental bridge, please leave us a message so we can get back to you as soon as possible. Book your appointment for dental bridges in Carstairs Dental Clinic, Alberta.
Schedule an appointment today!
Getting a bridge benefits you in many ways, but the best thing about it is restoring your confident smile.