Choosing a cosmetic dentist in Carstairs AB should always come first before considering which cosmetic dental treatment you need. Finding a team that you can trust fully and feel comfortable with is more important than looking for a dental office that offers a specific treatment you're interested in.
Cosmetic dentistry requires extensive training and practice. You'll be working with your cosmetic dentist to achieve the smile you've long wanted. For the process to be easier and more fun, you'll want a dental team that you feel comfortable with.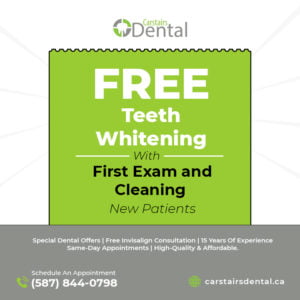 Here are some tips for choosing the right cosmetic dentist in Carstairs AB.
List what you want to improve in your smile. Consider your personal goals. What do you want to change about your smile or the appearance of your teeth? You don't have to define at this point which particular treatment would give you the smile you want. It is the job of the dental team to create a personalized treatment plan for you, based on your goals.
Ask for recommendations. Has anyone in your family or friends worked with cosmetic dentistry professionals before? Perhaps they know a good dental team in the area. You can check out reviews online from previous patients. Read about their experience going to the dental office.
Learn more about the team. Once you already have a list of dental offices that provide cosmetic dentistry, it's time to get to know the team. Visit the website to read bios or watch videos of doctors and staff to learn more about the team.
Book an initial consultation. Take advantage of the complimentary initial consultation. Book an appointment online with the dental office. This is your chance to get to know the dental team, see if their clinic is easily accessible from home or work, and have a look at the environment inside the clinic. Take note of your initial impression the moment you arrive in the dental office and your thoughts throughout your stay.
Share your thoughts. One challenge in cosmetic dentistry is for the dentist to be able to educate you about the necessary steps to your dream smile. Your perception of an attractive smile is important as it serves as the end goal of the treatment. Your dentist, on the other hand, will walk you through the risks and limitations involved in every treatment. They will show you dental possibilities you probably have not considered before. Your insights are critical to ensuring that the treatment plan is right for your needs and budget.
Compare your options. After visiting dental offices, the final step is to decide which team you want to work with. Think about the dental clinic that was most accommodating and paid the utmost attention to your needs. Depending on the treatment that you need, it's possible that you'll see the team for years. You might as well ensure that you'll love each of your dental visits.
Don't stress too much about the type of treatment that you need! Focus first on finding the right cosmetic dentist in Carstairs AB for you. Your dentist will help you identify appropriate treatments so you can achieve what you feel is a perfect smile.
Schedule an appointment today!