Does the look of beautiful white teeth get your attention? 
Do you catch yourself staring at a smile that shows perfectly shaped teeth without a stain or flaw? 
Well, now is the time to explore Cosmetic Dental options at Carstairs Dental – as the smile you've always wanted might be just an appointment away.
Dr. Jagatjit Dhillon, Dr. Justin Bhullar, and Dr. Hubert Ng are Dentists in Carstairs who have a special interest in creating beautiful smiles that improve esthetics and increase overall dental health.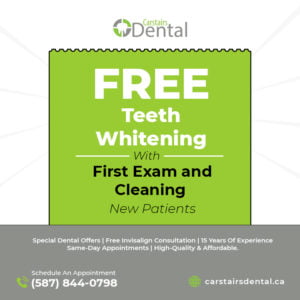 Cosmetic Dentistry isn't just about white teeth – it should also improve tooth to tooth relationship and arch formation – enabling dental arches to fit together properly and teeth to function optimally.  A beautiful healthy smile is an added bonus to an amended bite and improved function.
Cosmetic Dentistry encompasses many aspects of smile enhancement – from changing the colour, shape, and length of teeth – to performing immediate orthodontics by strategically placing veneers and crowns on teeth that are crooked and out of alignment.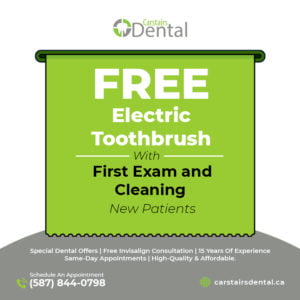 Orthodontics is one method of straightening teeth and is accomplished by applying gentle force on certain teeth to guide them into the desired position.  Cosmetic Dentistry addresses teeth that are not in ideal positions by physically reshaping and changing the angle with the use of porcelain and ceramic.  Whether it's just one tooth that is out of place, or several, Cosmetic Dentistry is able to change the look of a smile in just one to two appointments.
Carstairs Dentists know that by transforming a smile they can increase a patient's oral health – and contribute to an increased level of self-esteem.  Studies show that a beautiful smile gets you noticed – and can often open doors professionally and socially.  And people who love their smile show it off more – and smiling is one of the best things you can do to raise physical immunity – both yours and the lucky receiver.
Dentists at Carstairs Dental are available to answer your questions regarding Cosmetic Dental Solutions and invite you to contact the office for a consultation. 
Welcoming New Patients – call today at 587-317-4388
Schedule an appointment today!