Carstairs Dental, located in the heart of Carstairs, on Hammond Street, is a general dental practice dedicated to providing patients with treatment options that focus on achieving and maintaining optimal dental health.
Dr. Dhillon and Ng and their teams are passionate about offering dental treatment that helps patients attain the smile they've always wanted and attain a level of dental health that keeps them smiling for a lifetime.
Cosmetic Dentistry in Carstairs is an effective and affordable method of improving a patient's smile by addressing imperfections in color, size, shape, and position of teeth.
When an individual presents with discoloured teeth that are resistant to dental whitening solutions – resistance to bleaching gels is often due to the stain being inside the tooth, not on the tooth surface – the option of porcelain veneers or crowns becomes a viable option to restore a patient's smile to a younger, brighter, whiter state.
We have the following Cosmetic Services:-
Dental Veneers and Crowns are often a great option for lengthening, widening, and addressing crooked teeth – restoring symmetry and balance to a smile.
General Dentists at Carstairs Dental understand that a beautiful smile can also restore a person's confidence – making family photos, work, and school functions happy events, and not something to shy away from.  Today's porcelain has a quality that not only performs like tooth tissue but creates a natural-looking smile with translucency and colour that resembles healthy, natural teeth.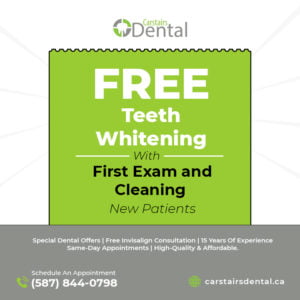 A great option for people who have had a root canal and notice darkening of the tooth – and for individuals who have several 'white fillings' on their front teeth that may have chipped or discoloured – Porcelain Veneers and Crowns can restore a smile in just two short appointments and create a beautiful natural look that any patient would want to show off.
Dentists at Carstairs Dental are happy to consult on treatment options and encourage patients to contact the office to make an appointment.  Welcoming new patients to their dental practice; Dhillon and Ng are experienced in seeing patients of all ages and dental needs, and their dental practice provides a full range of General Dental Services – everything you and your family need to keep you healthy and smiling.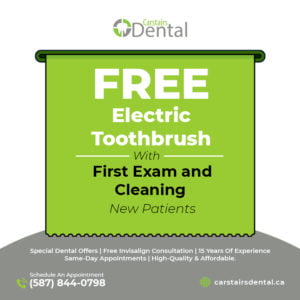 Talk to our Carstairs dentists today so that together we can personalize a treatment plan for you. We'd walk you through the steps we need to take to get to your dream smile. Schedule your appointment here.
Schedule your appointment today with Carstairs Dental for an Invisalign consultation. With a customized treatment plan, you can see how this unique dental solution can help you get the smile you've always wanted.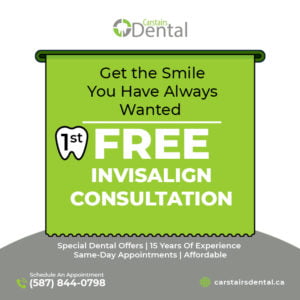 Schedule an appointment today!