Your child's smile is a precious thing – so when it comes to taking care of it choosing the right Dental Office is important.  Carstairs Dentists understand that a child's first experience at the dental office can set the tone for a lifetime of happy dental visits – or fear and dread about having to see the dentist.  Don't take a chance on your child's dental health – start things off right by seeing a group of dentists who make young smiles a priority.
Schedule an appointment today!
Dr. Justin Bhullar, Dr. Jagatjit Dhillon, and Dr. Hubert Ng are General Dentists in Carstairs who go out of their way to provide gentle, caring, and thorough care to all patients – young and old.  This group of Carstairs Dentists loves seeing young smiles in their offices and welcoming families to their dental practice.  Focusing on ensuring that each appointment is a great experience for young patients, and family members – Dentists at Carstairs Dental make pediatric care one of their top priorities and offer families some tips on how to prepare a child for their first dental visit.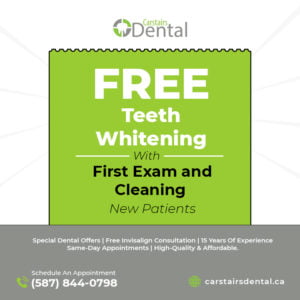 Pediatric Dentistry involves a lot more than just diagnosing dental issues in baby teeth – but requires patience and understanding of young nerves and fears.  The team at Carstairs Dental recommends that you bring your young child in for a 'happy visit' prior to scheduling any dental treatment.  Sometimes a ride in the dental chair, counting of teeth, and getting a dental prize is all it takes to win over a toddler and put a smile on their face.  If older siblings are already comfortable with visiting the dentist, then bring the youngest member of the family along at the appointment time.  Seeing a sibling being relaxed and comfortable in the dental office is a great introduction for a young child – especially when they're rewarded for cooperative behavior.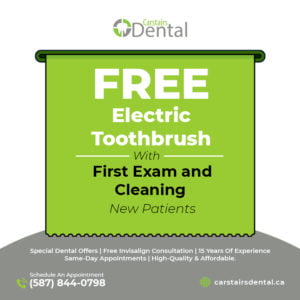 One of the best ways to prepare your child for their first dental visit is to simply talk about the dentist in a positive manner.  Explain how everyone needs to get their teeth counted and polished and that cleaning sugar bugs off teeth keeps them healthy and bright. Brushing your teeth when your child is brushing theirs is a great time to talk about getting teeth cleaned by the dentist – and it also reinforces the importance of taking care of your oral health.  Reading a book about visiting the dentist can also help dispel fears and anxiety – and bringing the book to the appointment is a great conversation starter for a young patient.
Keeping your child's teeth healthy is something Carstairs Dental takes seriously.  If you have a young child in need of dental care or if you would like to discover more about dental treatment at Carstairs Dental – call today – Welcoming New Patients 587-317-4388
Schedule an appointment today!