Do you have a single missing tooth or several missing teeth, dental implant surgery may be the best solution for your missing teeth. Dental implants are a good option if you have loose or missing teeth from tooth decay, gum disease, teeth clenching or grinding, root fractures, or facial injury.  Unlike other tooth replacement options, implants offer stable support. You can live life normally and not worry about the replacement tooth loosening or falling out.
The dental implant functions as the artificial root for your replacement teeth. Once the implant is fused into the upper or lower jaw (which can take several months), the crown of the tooth is attached. The replacement tooth, usually made of ceramic, is designed to look natural. People will not even notice it as you show your new, confident smile.
Schedule an appointment today!
Dental implants come with several advantages: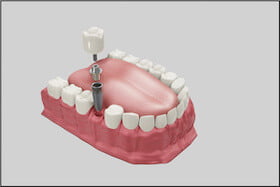 Before getting dental implants, your Carstairs Dentist will need to make impressions of your jaw and teeth. Taking a dental x-ray is also required. These steps are crucial in studying the condition of your mouth and determining whether you're fit for a dental implant.
During the procedure, your dentist will numb the area before attaching the implant to the bone. The replacement tooth is not integrated immediately. The dental implant needs to heal first, which can take up to six months. Your Carstairs dentist will let you know should you need another round of surgery for the dental implant.
Once the implant is healed, you are now ready to receive your artificial teeth. The step may take up to two months, depending on the number of fittings needed to ensure that the teeth fit right. Once everything's set, the teeth are attached to the implants. You can now enjoy your replacement teeth.
Dental implants are durable. However, after many years of use, they can as well experience normal wear. You may need to have your implants replaced or re-tightened. Make sure you make regular visits even after getting your implant.
Schedule an appointment today!